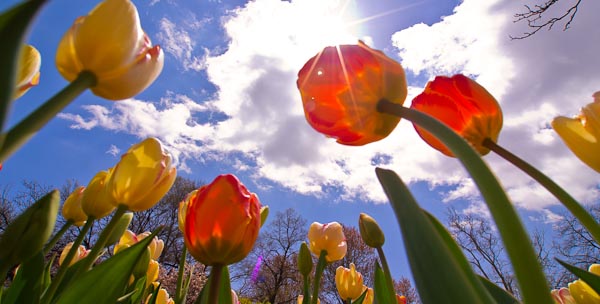 Fifth Annual Boo Bash Slated for October 21, 2017 at IHC!
Tickets are now on sale for our major yearly fundraiser, the Boo Bash Costume/Dance Party, to be held again at the Italian Heritage Center, 40 Westland Ave., Portland, on Saturday October 21, 2017 from 7-11pm.
As in the past, the Bash will be hosted by Shannon Moss, with Aaron Filieo as DJ, and will have a cash bar, silent auction, and lots of good munchies.
Tickets can be purchased in advance online below or by mailing a check ($20 per person to Simple Gifts, PO Box 2684, South Portland, ME 04116). Tickets will not be sold at the door.
So start working on your costume and join us for a good time for a great cause!
---
Trinity Concert Fundraiser Fun and Successful
The first ever concert fundraiser for Simple Gifts was held at Trinity Episcopal Church on March 18, and was a huge success. About 125 people attended to hear performances by Oompahlele, EckoVox, Pretty Girls Sing Soprano, and Seagrass.
The sanctuary was a beautiful backdrop, and the sound produced by the four groups was awe-inspiring.
The show ended with members of all four groups and many of the attendees joining in a rousing rendition of "Wagon Wheel," after which the performers received a standing ovation.
The benefit raised about $1,200 for Simple Gifts.
Many thanks to the board and to all others who helped out, but especially to the church for letting us use the facility, and to the Portland Phoenix and WGAN radio, for promoting the event free of charge.
---
Fourth Annual Boo Bash was a huge success!
Simple Gifts' 2016 Boo Bash was the most successful ever, raising over $10,000!
Held for the first time at the Italian Heritage Center on Saturday, October 15, the event hosted partygoers in creative and festive costumes.
Celebrity host Shannon Moss, decked out as a beautiful 20's flapper, mc'ed the affair accompanied by celebrity guest, Eddie Ezzard as the ubiquitous Jack Nicholson.
Best costume was awarded to Greg and Sue Sawyer and Mary Ann and Rick Emmert whom came chained together as a  "prisoners of love" chain gang.
A very close second was Mary Tibbetts, who came as Harley Quinn from the movie Suicide Squad.
The event featured a personal and moving speech by May Bubar, designer of the Boo Bash program, and an early Simple Gifts recipient, who attended with her husband and three children as special guests. May spoke of her time at MMC and the support that Simple Gifts gave her family during this difficult time!
Many thanks to all our generous sponsors especially the New England Cancer Specialists who have been Simple Gifts Angel Sponsor at the $2,500 level for the past three years, all contributors and attendees, and a very special thanks to all who decorated the Italian Heritage Center.
---
---
Bangor Savings Bank Award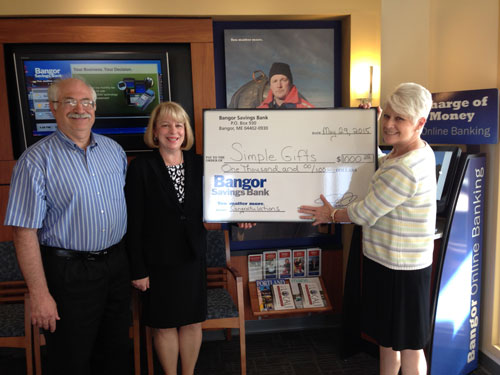 Assistant Vice President Linda Cohen of Bangor Savings Bank Mill Creek branch presents a $1,000 check to board members Tony and Mary Irace in May 2015. Simple Gifts was one of six non-profits to receive an award from Bangor Savings Bank Foundation's Community Matters More program.
---
Rotary Donation
In July of 2016, South Portland/Cape Elizabeth Rotary made a $1,000 donation to Simple Gifts. Pictured from left to right are Vice President Sue Hilton, Rotary President Bill Anderson, and Simple Gifts President Mary Irace. Thank you, Rotarians, for your generous support!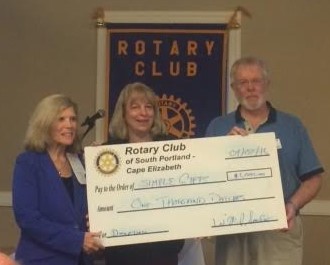 ---
In each of the past four years, from 2012 through 2015, Simple Gifts was awarded a $1,500 grant by the Margaret E. Burnham Charitable Foundation. We are grateful for their generous support since our very first year of operation!
---
Here are some of the "simple gifts" we've given out over the past several years
A dad in the Bangor area with a wife and two young children who received cancer treatment at MMC and additional surgery in Boston received $100 in gas cards and a $100 Hannaford gift card as he was concerned about having the gas to return home from Boston and feeding his family until he could return to work.
A retired veteran was critically ill and his wife was struggling with gas money and rides to the hospital to be by his side. Simple Gifts stepped in on several occasions to provide them with gas cards to make the visits possible.
Danielle, a, social worker at MMC Pediatric Associates, noticed a family with four children (the youngest a 20-month-old with a chronic gastrointestinal illness) needed grocery and gas gift cards and also six pairs of boots for the family for winter). Simple Gifts provided a $100 grocery card and $25 gas card and partnered with Lamey Wellehan's Store to provide the six pairs of boots for the family.
A woman needing life-saving cardiac treatment was rushed down to MMC from Madawaska by ambulance and Simple Gifts provided 15 $5 MMC cafeteria vouchers ($75 in all) so her daughter could eat while she kept vigil by her mother's side. Also Simple Gifts gave a $100 gas card so a neighbor from Madawaska could bring them back home by car after her cardiac treatment (they had no car as they had come by ambulance and the bus trip would more difficult and expensive).
A wife, who works as a waitress, travelled 60 miles round trip for 50 days to visit her husband in the hospital as he received treatment for Acute Myloid Leukemia. Her husband had to take an unpaid leave from his janitorial job. They are praying for a remission so he can have a bone marrow transplant (Dana Farber found a match). Simple Gifts gave them a $100 gas card and a $100 Hannaford grocery card.
A woman at Cary Medical Center in Caribou received $175 in gas cards to go for cancer treatments at Eastern Maine Medical.
 Thanks so much to all our donors for their support!